Heatcold TH213B Piano Key Boiler Heating System Intelligent Thermostat
$98.00
Regular price
$158.00
    Smart thermostats provide a new generation of smart temperature control experience for families, enabling devices to control the brain. No matter where you are, you can turn on the heating device through the App. Imagine how cool you can control the temperature of various parts of the house when you are lying on the sofa.
The unique piano key appearance design matches your decoration style perfectly. Used for indoor temperature control of boiler heating system. It supports voice control of Amazon Aleax, Google Home, etc., remote control of mobile phones and monthly energy consumption analysis reports.

Product parameter: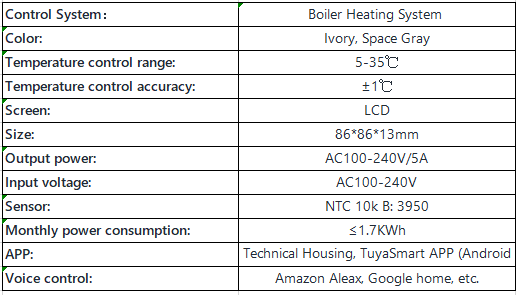 Feature:
Remote control: It can be controlled remotely through Tuya Smart App, even if you are outdoors, you can control the temperature at home through your mobile phone.
Voice control: Compatible with Amazon Alexa and Google Home for hands-free control.
Family member management: Can be invited or accepted to become family members and control your home together.
Easy and fast installation: During installation, you can use the original line to install directly without replacing the line again. The installation can be completed quickly according to our instructions
Mode setting: 4 different modes: Home/Away/Manual/Auto

Safe and reliable:
1. Stable and durable structure: Each product has passed 200,000 key-press tests, and has passed rigorous inspections and has reached CE certification standards.
2. Reliable fireproof materials: The products are made of high-quality ABS fireproof materials, and the high-quality fireproof performance makes the family use more assured.
3. Efficient overheating protection: When the temperature is higher than the protection value, the heater will stop working and reduce the temperature to the protection thereby providing effective protection.